Hey Fellow Travel Gear Searchers. What are you looking for?
Wolters World Merchandise
Our Limited Edition Wolters World "Hey There Fellow Travelers" 300,000 Subsribers Shirts! Available Only Through February 19th, 2018.
There are Men's T-Shirts, Women's T-Shirts, Kids' T-Shirts, Pullover Hoodies, and 3/4 Baseball Shirts. Click on the Bonfire link below.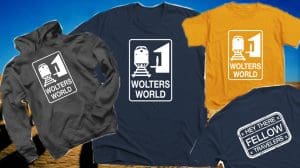 Travel Adaptors, Backup Batteries & Travel Power Strips to Charge Your Devices While Traveling
Coming Soon…
Travel Accessories
Travel Toiletries
Luggage & Bags
Camera Gear & Electronic Devices